Preakness Day in Baltimore is a huge event for Maryland, but today might mark its last running in the Old Line State. A confluence of factors seem poised to finally push the second jewel of the Triple Crown to another venue.

1) No Beer, No Fans. The Preakness infield had one policy prior to this year that was a bigger draw than any entertainment they could put on the track or on a stage. You could bring in as much beer as you could carry. As one can imagine, this made for a one-day Mardi Gras. Baltimore draws from a huge college population, reaching University of Maryland, Johns Hopkins University, University of Delaware, Penn State University, and smaller colleges like Towson and UMBC. The infield was a breast-baring, bare-knuckled brawling, beer-hurling orgy of inappropriate youthful behavior. The fans one-upped themselves year-after-year, until they finally went a little too far. The running of the porta potties made it apparent that maybe people were bringing a little more beer than they needed.



2) God's Wrath. The weather in the mid-Atlantic in mid-May is completely unpredictable. The temperature can range from 50 to 90 and the chance of soaking rain is relatively high. This year brings a high of 77F with an 80% chance of rain and a high likelihood of strong to severe thunderstorms. Considering many if not most infield tickets are bought at the gate, bad weather is a huge deterrent. Do not forget that the race day runs from noon to about 7:30 p.m. That's a long time to spend soaked.


3) Ownership Bankrupt. Magna Corporation filed for Chapter 11 bankruptcy earlier this year. Originally Pimlico, Laurel Park and the Preakness itself were to be sold off, but Magna succumbed to pressure from Baltimore and the State of Maryland, and withdrew those assets. Their current plan includes Santa Anita and three lesser tracks. There are plenty of tracks that would love to have the Preakness, like Arlington Park (which made a bid in the past), and an auction of the second jewel of the Triple Crown would attract more out-of-state attention than in-state.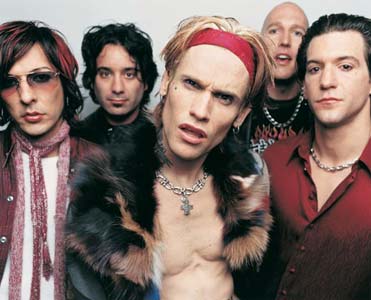 blahbblahblahlahblah Ladies and gentlemen....Buckcherry!
4) No Triple Crown. The Preakness' greatest asset is that there is almost always a Triple Crown still possible. When Calvin Borel steered Mine That Bird through 18 other horses to don the roses, America cheered the underdog while the Maryland Jockey Club cried into their stirrups. No one believes he can win the Triple Crown. His own jockey opted to ride the filly, Rachel Alexandra, that destroyed her competition in the Kentucky Oaks the day before the Derby. No Triple Crown means attendance drops, TV ratings drop, and the betting handle drops.
5) Bad Economy
. This one speaks for itself. Corporate boxes go unfilled. People cannot gamble as much. The upfront costs of attendance retards last-second attendance.
6) No Slots
. Maryland approved slot machine gambling by referendum last November, but Pimlico is not one of the approved venues. Nearby Delaware Park and Charles Town (West Virginia) have slots, and have taken a lot of the quality racing, trainers, and jockeys with them. Slot revenue allows for bigger purses. Pimlico's weekly cards are filled with $5000 claiming races, maiden clunkers, and otherwise horrible racing.
7) ZZ Top and Buckcherry
. Yup. That's what the authorities decided would replace the draw of all-you-can-drink beer. Is there ANY overlap in this fanbase?
Considering the shortfall in revenue from this year's Preakness, I just can't see the race surviving another year in the State.
Read the Baltimore Sun's take on Pimlico's fate
here
.