Look out Seneca Wallace. WUSA 9 in D.C. is reporting that the Redskins have traded QB Mark Brunell to the Seattle Seahawks. Brett Haber says the deal is not complete, but will be soon.

Is Brett Haber above reporting a false trade for Danny to induce panic in Atlanta? Brunell played well tonight in Jax.

Details to follow...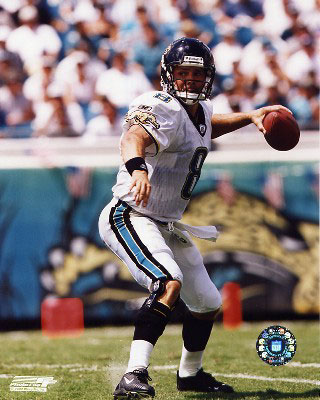 blablkhblah
This is the Raven-killing Mark Brunell I'll always remember
11:10p update - Seneca Wallace is reportedly being moved to TE. That explains why Ituli Mili and Jerramy Stevens were allowed to leave (other than the fact that Stevens sucks). Marcus Pollard, a 13-year veteran, is the only other name you'd recognize at TE on their roster.
Morning update - Brett Haber might have jumped the gun on this one. Apparently no deal was ever imminent, but rather the Seahawks inquired about Brunell. I think I'll go ahead and trust the
Washington Post
over the guy who has bounced between ESPN, WTTG Fox-5 D.C., radio and WUSA CBS-9 D.C.
What does it say for Mark's popularity in D.C. that the internet went ablaze last night on rumors that he had been dealt, especially considering he's worth no more than a 5th rounder or a mid-round pick swap?