I know I may not have contributed significantly to the 400+ posts, but that does not mean I have been ignoring the sports world. I have a few comments from the slightly more southern part of the East Coast, the town that Mike Vick screwed.

The Falcons season should undoubtedly be devoted to securing the best possible draft pick in the upcoming draft so that Petrino can draft Brohm or any other somewhat capable quarterback. While the Falcons may win more than 3 or 4 games (such as against Minn week 1), 3rd in the NFC South would be the best possible result. NFC South order of finish: Saints 12-4, Bucs 10-6, Panthers 8-8, Falcons 6-10. That's right, Jeff Garcia is taking the Bucs to the playoffs. Gradkowski and Sims really did cost them that many games last year, along with Cadillac being hurt some.

I'm eagerly anticipating another horrid Skins campaign. The last few years have just proven that a bad owner really can destroy a good coach(es). I'm embarassed to be a Skins fan and their future may be even darker than the Orioles if that's possible (Jeremy appears to have said everything that needs to be said regarding the 30-3 debacle).

But on to happier subjects... COLLEGE FOOTBALL!!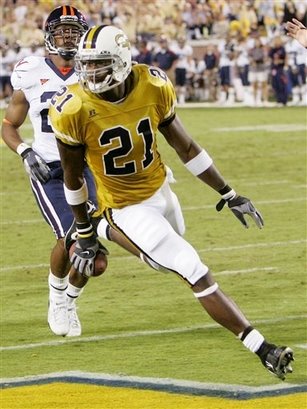 The excitement is palpable here at Tech for the first season without Reggie Ball in 4 years. The loss of Calvin is overshadowed by the prospect of having a QB that might be able to break a 55% completion rate. It was just painful to watch. GT-ND will be a fascinating matchup of teams trying to rebuild, and I think GT has a much better chance than most people expect. The line was only GT +2.5 last time I looked. Says something about the loss of Quinn and his cohorts.

So the Terps finally showed signs of life last year, miraculously winning 9 in spite of being dominated in almost every possible category. The fact that Steffi appears to be the starter over the new guys is a bad sign for the next years. Rumor has it that the new QB's can't even line the team up correctly yet. While the ACC isn't getting that much stronger, you really have to wonder if we shouldn't bring back Vanderlinden just to recruit. I'm embarassed that MD's top recruits are being lost to schools such as Illinois. I can deal with VT and Penn St. getting a few, but ILLINOIS?? Really? Ron Zook's that appealing? I know it's not the location... Vanderlinden recruited Lamont, EJ, Curome Cox, Madieu, Bruce Perry, Shaun Hill, along with lines that were able to open holes for Lamont in spite of the ineptitude of our passing attack. MD made the commitment to Fridge, he needs to keep things heading back toward the ACC championship and consistent 8+ win seasons. 6-6 is not good enough.

LSU at Miss. St is probably the only game of any interest tonight, and it might not be very good after the first half. Unless of course you're predicting a Buffalo or Murray State (1-10 in I-AA last year) upset.