"Human sacrifice, dogs and cats living together - mass hysteria."
--Dr. Peter Venkman

The Red Sox Nation collectively cringed today, as the Yankees won 5-3 and Eric Gagne choked away an 8th inning 3-1 lead, with the Sox eventually losing in 10 on Kevin Millar's cowboy up three-run homer.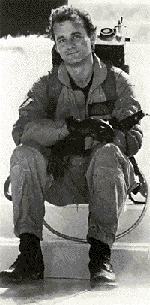 The partly hated, mostly feared Yankees are now only 4.0 GB for the AL East lead, and that means a repeat of last year's Yankees sweep of the Sox could possibly put Boston totally out of the playoffs...again.

If I told you Dice-K, Beckett and Schilling would be starting in a three-game series against the Orioles, and the Orioles hadn't won a series against Boston in 11 tries, you wouldn't expect too much. The Orioles, however, stole two come from behind victories.

Again, I still feel myself rooting so hard against the Red Sox, and more to the point the Red Sox Nation, that I'm rooting for the Yankees. Hence, I give you the wisdom of Dr. Venkman above.