It took 44 tries, but Navy finally beat Notre Dame again on Saturday.

I watched most of the game, and Navy definitely rivals Hawaii for the most entertaining offense in college football. Coach Paul Johnson, formerly a national champion at Georgia Southern, understands one thing about what he has - they're small. They can't stop anybody (even Delaware). Notre Dame could get three or four yards just by plowing straight ahead up the middle. His triple option attack, 90% of which is the same two plays (SB/TB toss, triple option sweep), churns through the clock and makes the other team realize that it only takes one mistake to get them behind in the touchdown trading game. To illustrate, Kaheaku-Enhada was 6 for 8 passing for 81 yards, a TD, and a two-point conversion - in a 46-44 game. He also had 47 of Navy's 257 rushing yards.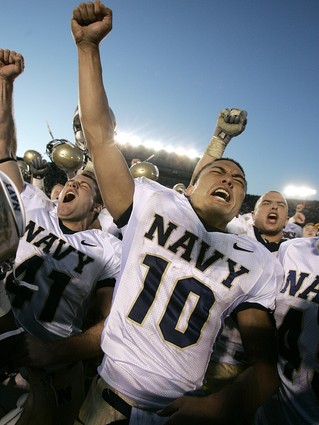 blahblahblahblah

Russell's nominee, Navy "QB" Kaipo-Noa Kaheaku-Enhada
To make matters worse, Notre Dame apparently can't find a single soccer reject to try field goals. Twice Charlie Weis was forced to go for it on 4th and long because he did not trust his kicker to make a kick. The pressure exerted by Johnson's clock control offense also caused Weis to desperately go for it on 4th and 14 with about 8 minutes left, on the assumption that he might not get the ball back otherwise.
Perhaps the most impressive aspect of Coach Johnson's offense is the discipline required to make it effective. When a team runs 85% of the time, a holding call or false start is almost always a drive-ending play. Also, Kaheaku-Enhada must make perfect split-second decisions on every option play, and must always pitch the ball carefully. Since Navy can't compete on defense, turnovers are almost always points (even against an inept offense like Notre Dame's), assuming the bad backfield pitch isn't scooped up for instant points. I suppose it should not be surprising to see a service academy display excellent discipline, but it is still amazing to watch.
Despite our (Terps' fans) differences with Navy's administration, it still feels good when they do well.