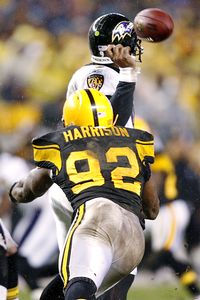 ... for not bothering to show up last night. I was worried that I would have to stay up really late watching the game. Instead I was able to go to sleep at halftime, confident that the game was over.

I think we can also safely say that Roethlisberger is back. Last season was an aberration, and he really is one of the best QBs in the league. He put on a clinic last night, showing why he's so good. There aren't many other quarterbacks who can slip out of a tackle, scramble out of the pocket, then throw a touchdown pass across his body.

As for the Ravens, bring on the Troy Smith era (I hope it's as successful as the Chris Redman era).