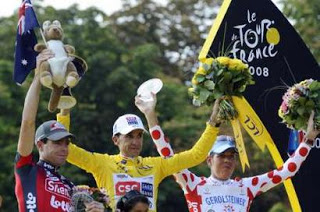 Carlos Sastre won the Tour de France today, making good on my pre-race prediction and securing the third straight yellow jersey for Spain. Sastre capitalized on an amazing breakaway up the Alpe-d'Huez and locked up the win with a strong showing in the final time trial. My quick-hit thoughts below:

Cadel Evans is quickly earning permanent bridesmaid status. This is two years running that he's had a chance to win the Tour headng into the final time trial (his speciality). Second place is great, but it's not a win.
Between Euro 2008, Rafa Nadal at Wimbledon, and now this, Spain is having quite a good summer so far. Bodog has Spain at 7/2 to win the Olympic gold in basketball. Just a thought.
Even with the Riccardo Ricco incident, the Tour managed to avoid the catastrophic doping scandals this year. Hopefully this is a sign that the sport has turned a corner, finally.
For all the jokes about how having the NHL on Versus meant that no one could watch it, I thought that most cable systems carry Versus. Apparently not in Kansas. I'm visiting family outside of Topeka this week, and I couldn't find a way to watch any of the last few stages (including Alpe-d'Huez). Either Versus needs to start talking to cable companies, or Kansas needs to get its shit together.
Here's hoping we see Astana back in the Tour next year. That was way too many big (clean) names excluded from a race that's hurting for star appeal.
Early 2009 Tour predictions:

Yellow Jersey:

Alberto Contador

- assuming Astana is allowed back in, I think he'll be riding with a lot to prove.
Green Jersey:

Mark Cavendish

- the Team Columbia rider was a revelation this year, and I think next year will be the first of several points jerseys won by the Brit
Polka Dot Jersey:

Andy Shleck

- his older brother Frank took most of the headlines this year, but Andy (who won the white jersey for the best young rider) never looked tired in the mountains. I think we'll see him win a yellow jersey before his career is over
White Jersey:

Roman Kreuziger

- he fell just short this year, but he's only 22, so he has a few more years to try.
That's it for this year, I hope some of you actually tuned in to the Tour and came to enjoy it. If not, there's always next year.