Some of you may have noted that last week, the late great Estelle Getty passed away. You may remember her as the comic foil on Golden Girls who drew laughs with such lines as, "My hearing aid is turned up so high, I can hear a pigeon fart in Fort Lauderdale."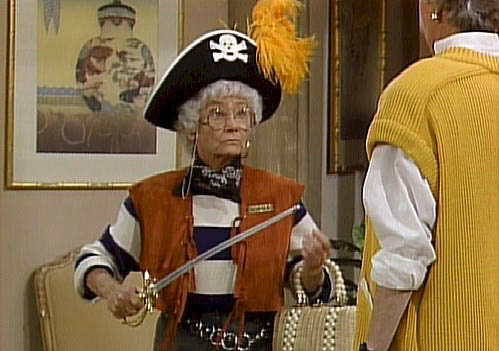 "It's funny because she's senile and we dressed her up in a pirate hat. It can't miss!" - Golden Girls writers
Well some of our more loyal readers may remember that last year we had an ECB mascot contest where each of our posters picked our college football mascot with an unbeatable name. For instance, Brien chose Navy Quarterback Kaipo-Noa Kaheaku-Enhada.
We have an early clubhouse leader in this year's ECB mascot contest. And we didn't have to look far to find him. Ladies and gentlemen, I give you, from The University of Maryland Terrapins...


standing six feet, six inches tall, weighing in at 350 pounds, a redshirt freshman from Hoboken, New Jersey, #71, offensive lineman...
Bearthur Johnson

Some of you may remember that also on The Golden Girls, Bea Arthur played the role of Estelle Getty's daughter, Dorothy. Now, the only saving grace for Mr. Johnson that keeps him out of our mascot hall of fame and makes us think that his mother and father are not the cruelest people alive is the fact that we now believe his paternal grandmother and grandfather are the cruelest people alive. For, you see, Bearthur Johnson of the Terps is the son of Bearthur Johnson Sr.
Still... pops... I get that you want to keep the family tradition alive, but come on. Why do that to your son?
But Terp fans, grab a slice of cheesecake, pull up a chair, watch Bearthur protect Steffy/Turner/Portis, and thank you for being a friend.