Or, as Bela Karolyi said, it was a "leep-ov" (rip-off). In last night's women's vault finals, Alicia Sacramone had a chance at redemption. After falling twice in the team competition and possibly costing the US a gold medal, Sacramone had an opportunity to win individual gold on the vault.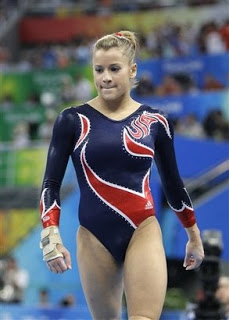 She had the bad luck to draw the first slot, meaning that she had to vault before all the other competitors. Her vaults were good, but not great. Alicia started with lower difficulty values than some of the other favorites, so her lower execution scores could really hurt. Luckily, Cheng Fei of China, one of the favorites for gold, landed on her knees on her second vault.

That looked to be the break Sacramone needed to sneak into a medal, but somehow Fei managed to score a 15.050 on a vault where she didn't even land on her feet. Combined with the first vault (which was really good), this pushed her average above Alicia's, effectively killing the American's medal hopes.

So here's the question: how can someone who totally bombs one of her vaults finish ahead of someone who does two good vaults? I know the difficulty scores can skew the results, but it's ridiculous that Fei could score a 15 when she didn't even land the vault.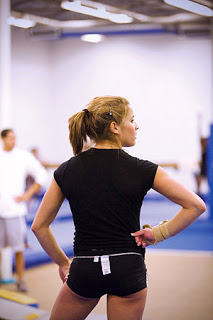 The NBC announcers seemed confused at the scoring, and Karolyi was very vocal about what he thought was a judging error. Sacramone got robbed of her chance to walk away from the Olympics with an individual medal. Why is the judging in Olympic sports always so crappy?