Usain Bolt has broken his own 100M sprint record (with an untied shoe and a pull-up finish) as well as Michael Johnson's 200M record in this summer's Olympic Games in Beijing. So much for the smog (and a slight headwind) slowing down the runners.

Normally, this would be a monumental accomplishment. But, thanks to Michael Phelps and the Speedo LZR, world records have become meaningless in these Olympics. Records in the pool and falling left and right, as new swimsuit technology has allowed swimmers to trim nearly whole seconds off of each 100M length. This is wholly unfair to Bolt.
spacer
Most fans pay little or no attention to swimming, gymnastics and track and field except for every four years when the Olympics are held. We only know what the folks on the television tell us. Rather than downplay the smashing of swimming records for the first week of the games, Rowdy Gaines and others screamed and applauded the amazing performances by Phelps and others. They often glossed over the fact that sometimes racers, especially at longer distances, broke the world record without even reaching the medal podium.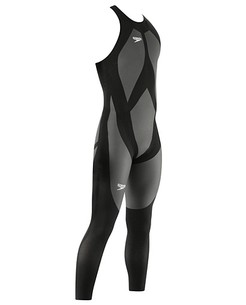 blahblahblah
The real hero of the Beijing Games - Speedo LZR
Then we went to the track, where records are much hardier, and we didn't blink when records fell. People who are part of the track community, or ran track in high school or college, are stupified by Bolt's amazing accomplishments. Casual fans wonder what all the fuss is about. After all, Bolt only has two gold medals. So what if he's the fastest man in the world, Phelps has eight. Of course, there is no backstroke, butterfly, or breaststroke in track, so Bolt has won just about everything he could win. Even the 400M, which has always occupied that weird middle-distance status, is a totally different race than the sprints.
If you need perspective on Bolt's accomplishments,
look at the Track and Field world records
as they existed prior to Beijing. Many of the records are over a decade old. Many of the sprint records are younger, but this is understandable as the margins between victory and defeat are measured in the hundreths of seconds. Improvements in shoe, stadium, apparel and track engineering are going to have the greatest effect on the shaving those times. Even then, the records last for years and are only marginally broken.
Usain Bolt has arguably made the most important and impressive contribution to these games, but thanks to Michael Phelps he'll probably be best remembered for being a bit of a showboat.