Today, Ralph Friedgen announced that Jordan Steffy will be under center when the Terps take the field against Delaware on August 30.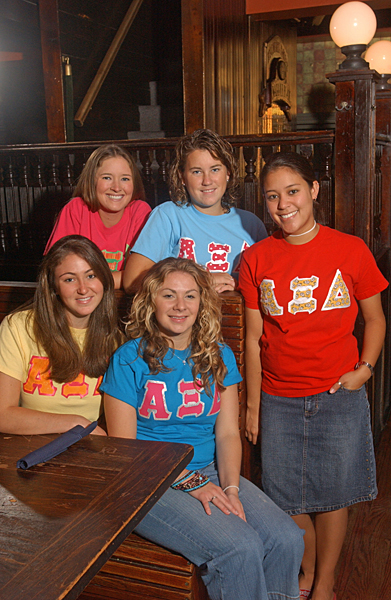 I'm so despondent now about the Delaware game, I've turned to mocking Delaware's busted-ass sorority girls for solace.

So the Terps will take the starting job away from Chris Turner, who led the team to a comeback win against Rutgers, a victory over Matt Ryan-led top-10 Boston College, and a shutout over NC State to seal up a bowl bid, the Terps' first trip back to a bowl after two seasons shut out of it. They give the ball back to Jordan Steffy who pretty much gave away last season with an interception against Wake Forest that was returned 101 yards for a touchdown and brought the Deacons back into the game.

Look, I was super excited when Steffy came here. I lobbied like hell for him to get the job over Joel Statham. The kid has insane raw abilities, and supposedly is the best quarterback in practice.

But as Iverson says, "you talkin' bout PRACTICE." The problem with Steffy is that he gets the ultimate deer-in-headlights look on the field. He rushes his decisions, does not have nearly enough accuracy to hit our receivers deep, and although he has speed, doesn't decide to tuck the ball and run until it's too late.

Chris Turner supposedly does not practice well. But he has a cannon for an arm, something we really could have enjoyed with Heyward-Bey running down the sidelines on a deep flag pattern. He has brass balls and ice cold blood running through his veins. He earned the respect of his teammates. And he's got way better accuracy, something you can't underestimate the importance of when running a west coast offense.
Steffy's career numbers: 14 games played, 5 games started, completed 58.2% of his passes, two touchdowns, six interceptions.
Turner's career numbers: 11 games played, 8 games started, completed 63.5% of his passes, seven touchdowns, seven interceptions.

Terp fans... did Fridge make the right decision? This blogger says no. But methinks this was not Fridge's decision. This has the fingerprints of James Franklin on it trying to make his stamp on the program.