We got two games in the D.C. area today, Saints at Redskins and Chargers at Broncos. Both were greatly entertaining. For the record, I hate the Redskins.


Saints at Skins - This game should have been over at halftime. Shockey lost a fumble and tipped a ball up for an interception, giving the Redskins five scoring opportunities in the first half. Due to some conservative playcalling and a bad snap, they only converted three field goals from those opportunities. New Orleans got a field goal of their own and converted a Randle El punt return fumble into a touchdown. Despite being utterly dominated, the Saints went into halftime leading 10-9.
Since the Saints deferred, they got the 2nd half kickoff. They methodically and efficiently went down the field and scored a touchdown, seemingly changing the momentum and breaking the backs of the frustrated Redskins. Luckily for Skins fans, Zorn took the reins off a bit. Or, at least, somebody realized the Saints were playing their 3rd and 4th string CBs due to injury, and even they were on and off the field in the humid 100+ degree on-field heat. The Skins answered the Saints half-opening TD, and responded again when Reggie Bush took a horribly short punt 55 yards for another TD.
When the Skins were down 9 following Reggie's return with about 10 minutes left, the Skins looked done. The defense had played well, but the 24-15 lead looked like too much for the Skins relatively vanilla offense, still apparently playing without a hurry-up system, to overcome. Then Campbell side-stepped a rush to give him just enough time to let Moss simply run by a horribly overmatched 4th string CB, and Campbell connected. After another solid drive with good creative playcalling, the Skins had taken a five-point lead with 3:30 to go.
The game ball has to go to rookie safety Chris Horton (UCLA). Reed Doughty was a late scratch with a "stomach virus", and Horton took his spot, recovering Shockey's fumble (that was sitting motionless with no Saints in sight) and managing not to drop two gift-wrapped pop-up tip interceptions. Horton doesn't get the game ball for being johnny-on-the-spot today, as that was just a matter of luck and seeing the ball. He gets the game ball for knowing that Visine is flavorless and causes instant severe gastrointestinal distress. I hope Doughty's breakfast plate was washed quickly so it can't be tested.
Many readers might be confused as to why I'm so positive about the Skins' win. I think I should explain that my Skins hatred is quite deep. It's so deep, that a 3-13 season just isn't painful enough. I want their failures to be the most gutwrenching, sickening displays in all of sports. If they just suck, it doesn't work. On that note, I was very pleased to see rookie punter Durant Brooks (controversially kept over veteran Derrick Frost) literally account for a ten-point swing. He mishandled the snap on a field goal attempt, sacrificing three points, and dinked Reggie Bush's punt return TD so badly that Bush caught the ball on a dead run near midfield.
I also enjoyed seeing Jason Campbell hit 8 different receivers and call the audible that led to the bomb to Santana Moss. I need for their to be two factions of Skins fans: Campbell supporters and Todd Collins supporters (aka racists). This game should further that.
So, at 1-1, I feel the Skins fans will overreact to the win just like they did to the loss, making their loss to the Cardinals all the more painful.
Chargers at Broncos - This was not a good day for Ed Hochuli and his crew. After a blown call against the Chargers couldn't be reviewed due to technical difficulties early in the game, Hochuli single-handedly took a win from the Chargers with under a minute to play. On third and goal, Broncos down 7, Cutler rolled right and tried to throw the ball to his receiver (Selvin Young in the end zone flat I think). Cutler lost his grip, the ball squirted out, and the Chargers recovered. Game over.
Unfortunately, Ed Hochuli's eyes deceived him. Even though the ball came out of Cutler's hand on the way up, his empty hand propelled the ball slightly forward, apparently deceiving Hochuli into thinking Cutler's arm was moving forward. He blew the whistle as soon as the ball hit the ground. Unfortunately, the ball was clearly fumbled and San Diego clearly recovered. The inadvertent whistle killed the play with the ball at the 10-yard-line, a loss of eight, but the Chargers were robbed of the coffin nail. On 4th and goal the Broncos connected on an in pattern to Eddie Royal.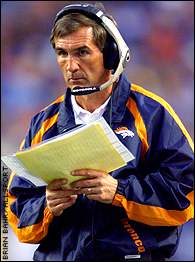 So the Broncos tied it up, right? Surely they'd kick the extra point and go to overtime, since they're at home. Apparently Shanahan weighed his options. Option 1 - win the coin toss and score or lose the coin toss and lose, as the score would be 38-38 and neither team had stopped anything all game. Option 2 - go for two and the win, and at least feel like you lost over something you could control. Shanahan obviously felt he had a better than 50-50 chance getting the two, and that's what he opted to do. For the first time I can recall, an NFL team went for two instead of taking the chippy XP to overtime.
Shanahan must have a great play in mind. What balls, what confidence, what arrogance! Nope. He ran the exact same play, or at least the same route for Eddie Royal, that they had just scored on. The two is good, the Broncos lead by one with 24 seconds left, and they held on to win.
Between the Skins and Broncos, we saw some serious manhood on display this afternoon. Moss and Clinton Portis and Jason Campbell refused to back down when the Saints woke up. Mike Shanahan and Jay Cutler refused to let a coin toss decide their fate (and perhaps playoff seeding). This was a very good day to be a football fan.