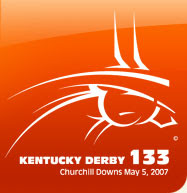 Just to set things straight, this preview is going to be nowhere near as good as this one from the guys at The Gowanus Rotisserie Baseball Gazette.

But I will give you my derby picks, which have historically been good but not good enough to win money. Right now you're probably thinking "What the fuck are you talking about?" That's a good question. I have a streak of having the derby winner in my exacta, but missing the place horse (no, not Giacomo's year). The streak started the first year I bet on the derby, when J-Red and I had War Emblem (~20/1) at the top of the ticket, but somehow missed Proud Citizen finishing second. For about 3 seconds, I thought I had won $1000. The exacta ended up paying $1300 (see here for payouts). I actually didn't remember the payoff being that high, and it still burns me up a little bit to think about all that lost money.

Anyway, back to this year's derby. Here are the horses along with my thoughts based on their past performances, which can be found at DRF.com. My trick here is to ignore the morning line the first time through the list, then compare my initial analysis to the money and look for value. I hate betting the Derby favorite, and in a 20 horse field, I'm even more wary.


Sedgefield Weakened in his last race, an 8 furlong G3. Automatic disqualification, just cross him off your board right now.


Curlin Undefeated in 3 preps, didn't race as a 2 year old. Won all three easily, but doesn't have a very extensive resume. Circle this one to keep an eye on, he'll probably be in our exacta.


Zanjero Great experience, with a G3, a G2, and a G1 race all under his belt this year. The only problem is that he didn't win any of them. And he was outfinished in the Bluegrass by two other Derby horses. I'm not ready to cross him out yet, we'll come back to this one


Storm in May Lots of turf races for this horse, which makes him kind of tough to evaluate. He got blown out by Curlin in the Arkansas Derby, but I'm willing to overlook that one if I can find a reason to like him. Unfortunately, there isn't much to like on dirt. He even got the dreaded "weakened" in a 1 1/8 mile turf race. Cross him out.


Imawildandcrazyguy Another horse with some good experience, but he's gotten beat by a lot of other Derby horses. The description on his run in the Louisiana Derby is "No final kick." We won't be betting on him.


Cowtown Cat Coming off two victories in grades stakes races, but not against other Derby contenders. Seems to be a fairly slow starter with good distance legs. I'm going to keep him in consideration, we might find some good value here.


Street Sense Good closer, beat a lot of Derby contenders in the Breeders Cup Juvenile last fall. But as we know from reading the Gowanus preview, Juvenile winners don't win the Derby. We're going to circle him anyway. I like strong finishers.


Hard Spun 5 for 6 lifetime, with his only loss being a 4th place finish in the a Southwest 250K race that Teuflesberg won. Circle this one, he'll be in the exacta.


Liquidity His line for the Louisiana Derby: "Faded final furlong." If you can't hang for 1 1/16, you're not going to make a mile and a quarter at derby pace.


Teuflesberg Seems to have trouble starting races (lots of bobbles and an "unprepared start"). Not a good sign in a 20 horse field where a clean start is probably going to be crucial. This guy's another big X.


Bwana Bull I'm of two minds about this one. He was either exposed as a 2nd rate horse in the Santa Anita Derby, or he had one bad race and is a strong contender. One problem is that the one bad race was a G1 at 1 1/8. Was the competition just too good? Was the distance too much? Or was it a fluke? I'm going to go with 2nd rate. You might look good in smaller Allowance and G3 races, but the Kentucky Derby is a whole different ballgame.


Nobiz Like Showbiz I like this horse. Great prep resume, with 5 graded stakes races under his belt already. All of those were at either a mile or 1 1/8. He doesn't seem bothered by distance at all, and the only thing keeping him from a 4 race winning streak is a bumped start. Circle this one and put a star next to him.


Sam P. This type of horse is the reason I don't bet Trifectas. He could easily sneak into the money, but for exacta purposes, I think we can cross him off (I hope).


Scat Daddy This is the trap horse of the field. There is just enough in his past performances to talk yourself into putting money on him, but enough red flags to discourage you. His most impressive win, the Fountain of Youth where he beat Nobiz, has a Moss rating of slow late. Stay away from Scat Daddy. (see, I made it through that whole thing without a scat = horseshit joke)


Tiago Yes, he's Giacomo's full brother. Yes, that is a reason not to bet on him. That Santa Anita Derby win looks like a fluke to me. I'm not buying.


Circular Quay Impressive resume, but not enough to sell me quite yet. Leave him blank for now


Stormello In both the Florida Derby and the BC Juvenile, 'mello has a line of "tired." I'll pass.


Any Given Saturday Bad trip in the Wood and a couple of "close but no cigar" finishes in graded stakes. Let's put him in the "maybe" pile for now.


Dominican I'm not seeing enough here to justify taking him from the 19 spot. The Blue Grass win is impressive, but it's still not enough.


Great Hunter We can discount the Blue Grass loss to a bad trip, but is he good enough to win from the far outside? I don't think so. He'd be a maybe if he were starting from closer to the rail, but I can't put money on him from this starting gate. Even though his Grandsire was A.P. Indy, who was himself descended from both Seattle Slew and Secretariat. Now I'm starting to talk myself into him. Let's leave him in the "maybe" column.


Alright, we've been through the field once, so where do we stand?
| | | |
| --- | --- | --- |
| Yes | Maybe | No |
| Curlin | Zanjero | Sedgefield |
| Street Sense | Cowtown Cat | Storm in May |
| Hard Spun | Circular Quay | Imawildandcrazyguy |
| Nobiz Like Showbiz | Any Given Saturday | Liquidity |
| | Great Hunter | Teuflesberg |
| | | Bwana Bull |
| | | Sam P |
| | | Scat Daddy |
| | | Tiago |
| | | Stormello |
| | | Dominican |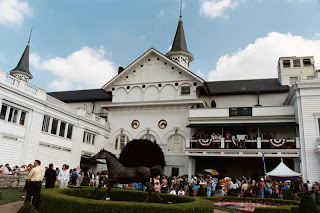 We managed to eliminate 11 out of 20 horses in the first pass. Now it's time to take a look at the odds on the "Yes" and "Maybe" Horses:
Curlin (7/2)

Street Sense (4/1)

Hard Spun (15/1)

Nobiz Like Showbiz (8/1)

Zanjero (30/1)

Cowtown Cat (20/1)

Circular Quay (8/1)

Any Given Saturday (12/1)

Great Hunter (15/1)
Ouch. We didn't manage to eliminate many of the favorites, and our "Yes" horses look very similar to the experts' picks. That's never good, especially in a large field.
Let's take another quick look at the maybes to see if any of them should be on the card. Zanjero looks worse the second time, Cowtown Cat looks like a yes at 20-1, Circular Quay looks like a yes, Any Given Saturday looks like a no, and Great Hunter looks like a no.
So that leaves us with 6 horses:
Curlin (7/2)

Street Sense (4/1)

Hard Spun (15/1)

Nobiz Like Showbiz (8/1)

Cowtown Cat (20/1)

Circular Quay (8/1)

I really like Nobiz and Street Sense, so let's put them at the top of the exacta with the others below. So our bet ticket looks like this:
7,12 | 2,6,7,8,12,16
That's a $20 bet with a $2 exacta. Now you know what I'm betting, I'd love to hear your thoughts.
Photo Credit: bridgepix