That's the question posed by the front page of the Baltimore Sun this morning. I think the answer is "maybe". Perlozzo has definitely made some questionable, if not poor, decisions over the past few weeks. They include pulling Jeremy Guthrie in the 8th inning up 5-0 last Sunday, bringing in righty Danys Baez to face a lefty in the 8th inning of yesterday's game (or ever for that matter), and failing to take advantage of lefty-righty hitting matchups in other situations, especially with the flexibility possessed by the O's at C, 1B and OF with Huff, Chris Gomez, Gibbons and Hernandez. Given the Orioles' margin of error is very slim due to injuries and overall talent, these factors all point to firing Perlozzo.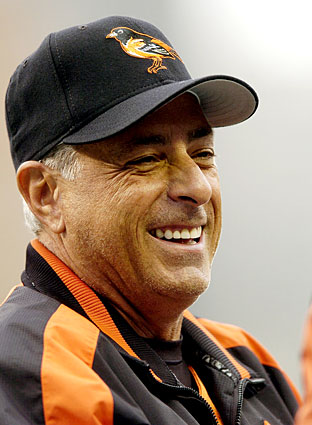 Unfortunately, Sam and pitching coach and childhood friend Leo Mazzone come as a package deal. If you believe that the progress shown by Loewen (pre-injury), Cabrera, Guthrie, Bedard and others is due to Mazzone, you'd be hard-pressed to send them both packing. If, on the other hand, you look at bullpen disasters like Danys Baez and the regression of Chris Ray, you might not feel particularly attached to either of them.
Given Peter Angelos' reluctance to make mid-season moves, and since no player has publicly griped about Perlozzo, I think we are going to be stuck with him for the remainder of the season. It will be unfortunate to see bad things happen to good people, but it wouldn't be the first time (Johnny Oates, Cal Ripken Sr., Frank Robinson).