Roger Clemens has provided sworn deposition testimony to a Congressional committee, and will testify under oath publicly on Wednesday. Here's a look at what has transpired thus far, the public relations battle between Clemens' crew and former trainer Brian McNamee's crew, and what we can expect Wednesday.


1997 - Brian McNamee, a former NYPD officer, begins working with Roger Clemens as his strength and conditioning coach when Roger joined the Toronto Blue Jays. Clemens won two Cy Young awards with Toronto before joining the Yankees in 1999, taking McNamee with him. Jason Grimsley and Andy Pettitte were also on those Yankees teams for two years.
Aug. 2005 - Jose Canseco alleges that Roger Clemens possessed "expert knowledge" of steroids. Clemens denied the allegations, stating that he only took prescription Vioxx (a joint pain reliever) before it was withdrawn from the market.
Oct. 1, 2006 - Clemens, Andy Pettitte and Brian McNamee are all "named" in the leaked Jason Grimsley affidavit. The leaked copy is eventually discredited, and the correct copy did not include the names. While Pettitte and Clemens denied the Grimsley accusations, McNamee took much of the heat,
denying the accusations to CNNSI's Jon Heyman
.
Dec. 2007 - All players named in the Mitchell Report, according to Mitchell, are given an opportunity to respond prior to the release of his findings.
Dec. 13, 2007 - The Mitchell Report is released, naming Roger Clemens, Andy Pettitte and trainer Brian McNamee.
Dec. 14, 2007 - Clemens' attorney Rusty Hardin issues a denial on Clemens' behalf, claiming he has never used any steroids or improper substances. Hardin tries to discredit McNamee and bemoans the destruction of Clemens' reputation.
Dec. 15, 2007 - Andy Pettitte admits to using HGH twice in 2002 to assist his healing.
Dec. 19, 2007 - Roger Clemens forcefully denies having ever used any banned substances.

Dec. 21, 2007 - Clemens' attorney Rusty Hardin
threatens to sue anyone
who alleges that Roger Clemens used performance-enhancing drugs, leading nearly every blogger on the face of the Earth to definitively state that Clemens used performance-enhancing drugs. To our knowledge, Hardin has not sued any of us yet.
spacer
Dec. 23, 2007 - Clemens releases a
video to YouTube
denying allegations of steroids use.
Jan. 6, 2008 - Clemens appears on 60 Minutes with Mike Wallace to deny the allegations. Clemens states that he was only injected with lidocaine and B-12, neither of which make any sense. I don't feel like linking it, but Google "clemens lidocaine b12 bullshit" and check out some of the results.
Jan. 6, 2008 - Clemens' attorneys file a defamation suit against Brian McNamee (on a Sunday). The bulk of the complaint serves to recount Clemens' resume. Whether that suit has actually been served upon McNamee, and whether McNamee has filed a countersuit, is not yet known.
Jan. 7, 2008 -
Jon Heyman of CNNSI
scores an exclusive interview with Brian McNamee, in which McNamee sticks to his guns.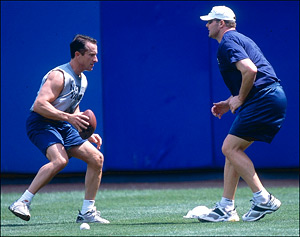 Jan. 7, 2008 - Clemens' group holds press conference in which they play a tape of a Jan. 5 phone call between Clemens and McNamee that was recorded without McNamee's knowledge or consent. The whole ordeal makes Clemens look like an ass, and McNamee doesn't say anything to indicate that he's not being truthful.
Jan. 10, 2008 - Clemens' attorneys claim that McNamee is dodging Clemens' attempts to serve McNamee with the filed defamation suit. This is odd, because McNamee is not exactly in hiding.

Jan. 14, 2008 - Clemens' attorneys hedged about whether Clemens would testify under oath before the House Oversight and Government Reform Committee, claiming that it could interfere with his defamation lawsuit against McNamee. People with a brain wonder what Clemens could say under oath that would hurt his case alleging that McNamee is a liar.
Jan. 24, 2008 - Congress establishes hearings on Feb. 13, 2008, with Clemens, Pettitte, McNamee, Kirk Radomski and Chuck Knoblauch scheduled to appear.
Jan. 28, 2008 - Clemens' agent releases a statistical report which supposedly shows that mathematically there is no evidence of steroids. Everyone laughs.
Jan. 29 to Feb. 5, 2008 - All parties scheduled to appear before Congress on Feb. 13, 2008, are deposed under oath in advance of their testimony.
Feb. 4, 2008 - The House Oversight and Government Reform Committee schedules a hearing entitled "
Myths and Facts about Human Growth Hormone, B12, and Other Substances
." for Feb. 12, 2008, the day before Clemens' testimony. Apparently they want to be fully educated about the differences between vitamin B12, lidocaine and HGH before Clemens lies to them.
Feb. 7, 2008 - News breaks that McNamee turned syringes, bloody gauze and other physical evidence over to the Feds. Clemens makes a tour of Capitol Hill, meeting with Elijah Cummings (D-MD), Tom Davis (R-VA) and others.
Feb. 8, 2008 - McNamee alleges that he also injected Clemens' wife, Debbie, with HGH in advance of a 2003 couples Sports Illustrated shoot.
Feb. 10, 2008 -
Economists and statisticians
at the motherf-ing Wharton School of Business at Penn refute Clemens' statistical analysis and claim it actually DOES show a sudden improvement.
Feb. 10, 2008 - House Oversight and Government Reform Committee Chairman Henry Waxman (D-CA) sends a nasty
letter to Rusty Hardin
admonishing him for comments made about FBI agent Jeff Novitzky. Best quote:
[A]s a witness in our independent investigation, it is not your client's prerogative to dictate who attends or does not attend the hearing. Given your long service as both a prosecutor and a private attorney, I trust you did not intend your comments to be a signal that there could be adverse repercussions to a federal law enforcement official for attending the hearing or taking other official actions.
spacer

Feb. 13, 2008 - All parties will testify publicly before the House Oversight and Government Reform Committee beginning at 10 a.m. in the Rayburn Building. Notable Committee members include Republicans Tom Davis, Chris Shays (CT), and Darrell Issa (CA), and Democrats Waxman, Dennis Kucinich (OH), Eleanor Holmes Norton (DC) and Marylanders Cummings, Chris Van Hollen and John Sarbanes.
Rusty Hardin and Roger Clemens had one strategy from the outset: paint McNamee as a government snitch who would throw anyone under the bus to save his own ass. Their entire strategy relied on a few key points:
1) Roger Clemens is believable
2) Roger would refrain from saying anything stupid (B12 and lidocaine for example)
3) McNamee would not be believable
4) Andy Pettitte would not corroroborate McNamee's story
5) McNamee was not holding onto to physical evidence that tends to support his story
Well, Roger and Rusty are oh-fer. Now we get to the sticky part. Since important parties Pettitte, McNamee and Roger Clemens have given SWORN deposition testimony, and will give SWORN Congressional testimony, they are all extremely vulnerable to perjury and contempt of Congress charges if any are shown to be liars.
According to Rusty Hardin, Clemens will not invoke his Fifth Amendment
protection against self-incrimination when he testifies on Wednesday. That goes against the advice of noted legal genius Alan Dershowitz. McNamee has nothing to lose in his testimony, as he has vowed to fully cooperate with the Feds. Plus, McNamee just saw that Mets clubhouse supplier Kirk Radomski received only probation for his major involvement in steroids trafficking. Andy Pettitte must not have given any interesting deposition testimony, as he, along with Knoblauch and Radomski,
have been removed from the witness list
for tomorrow, though Reps. Waxman and Davis pointed out that they cooperated fully.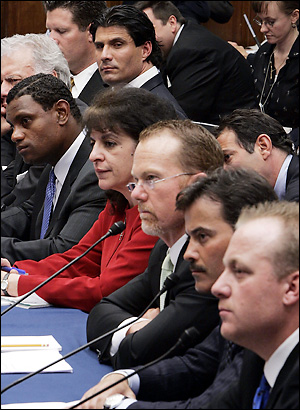 As noted here
, the physical evidence produced by McNamee is not enough alone to convict Roger of perjury beyond a reasonable doubt, no matter what he says. The evidence is old and has always been in the possession of McNamee, which poses the O.J. Simpson/Mark Fuhrman problem: McNamee could have done anything to that evidence over the past half-decade and he had access to Clemens' blood. Old evidence can still be damning (ask Bill Clinton about blue dresses and errant "shots"), but by itself it will not rise to the level of proving beyond a reasonable doubt that Roger told a material lie under oath.
However, the combination of McNamee's physical evidence, his testimony, and any other evidence that might come to light could be enough to get Roger into hot water criminally. Plus, the lawsuit Clemens' "filed" (but apparently has not served) alleging defamation by McNamee is looking more and more like a liability. McNamee would likely win a countersuit based on what we now know. Though less likely, if Roger flakes and refuses to show up or testify at all he would be at risk of being found in
contempt of Congress
, a rarely used mechanism intended to punish those who obstruct Congressional investigations.
While we know that the hearing on Wednesday will begin at 10 a.m., the actual order of witnesses has not been revealed. This is important, because if Roger is scheduled to testify first (as I assume he will be), he won't know what McNamee will say later in the day. His demeanor and appearance will tell volumes before the other witnesses ever say a word. In fact, Roger may have already perjured himself in his sworn deposition testimony. He has no idea what McNamee and Pettitte told the staff attorneys who deposed the group, and if he gave false deposition testimony, no matter what he says in the public hearing, he can be charged. Barry Bonds would be quick to tell you that you don't have to lie in open court to face federal perjury charges. A ton of federal "guests" will tell you that, Wesley Snipes aside, the Feds don't bring losing cases.
Then again, Roger could be telling the truth. I just added that in case Hardin gets around to filing all those defamation lawsuits. I've been to Houston, and I don't want to go back just to wipe the floor with his showboating ass.