A little something for all you Terps fans out there. Greivis Vasquez headlined Andy Katz's Weekly Watch after an outstanding week. The Terps as a team were also #2 on the teams to watch outside the top 25 list. Joe Lunardi has the Terps as a 10 seed. The Terps just need to keep doing what they're doing and this year will turn out alright after all. 10-6 or even 11-5 in conference are not hard to imagine any more, even if we lose at Duke. If UNC continues to have point guard problems, there's a chance Maryland could finish second in the ACC this year (very slim). The two home games coming up against FSU and VT will be critical to cement our place in the tournament.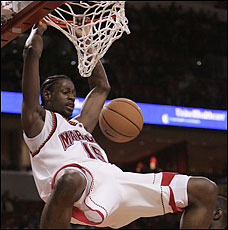 blahblablahhblahblahblah
Photo from Washington Post
In addition, The Sporting News has named Terps F James Gist their National Player of the Week. Gist scored 23 with 7 boards against Boston College and added 30 points, 9 boards and 4 blocks against NC State. He had previously been named ACC Player of Week after the Terps beat then #1 UNC.