Football's over. Baseball hasn't started yet. The NBA, NHL, and college basketball are going through the paces until the playoffs/tournament. What's a sports fan supposed to do on a cold late-winter weekend? Don't worry, NASCAR returns on Sunday!

If you're new to NASCAR, if you haven't been following the off-season news, or if you only watch the Daytona 500, here are 5 things to watch for during the race.




Toyota Rising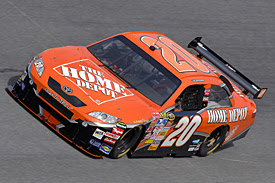 Last year, Toyota the first foreign car manufacturer to participate in NASCAR's highest division (now called the Sprint Cup, I've already expressed
my thoughts on the name change
). NASCAR actually has rules to limit participation to American cars, but since Toyota manufactures the Camry in Kentucky, it qualifies.
Toyota's rookie season in the Sprint Cup was a bit of a disappointment. The Camry's best finish was a third place in Talladega by Dave Blaney. This year, Joe Gibbs Racing is making the switch from Chevy to Toyota, so expect better results from the Camry this year.
It will be interesting to see how Toyota's entry and success will change NASCAR. Will we see more manufacturers enter the series? Will Honda let Toyota monopolize the "import" side of NASCAR? Will Toyota draw more fans to NASCAR from the Northeast? Will there be a backlash from traditional NASCAR fans who might resent the idea of a Japanese stock car (think Hank's dad from "King of the Hill)?
New Faces
Last year, we saw Formula 1's Juan Pablo Montoya make the switch to NASCAR. This year, Jacques Villeneuve (also from F1), Sam Hornish Jr., Dario Franchitti, and Patrick Carpentier join him. This is another area that could see some backlash from traditional NASCAR fans who have always resented the (often snobby) open wheel fans and the drivers they support. On the flip side, these drivers are beginning to show open wheel fans that NASCAR is good racing, not just a bunch of heavy, ugly cars turning left.

Probation
Kurt Busch and Tony Stewart will start the year on a six-race probation following a crash and fight in practice last week. Giving the drivers only probation and not fining them or docking points is part of an attempt by NASCAR this season to allow the drivers to "vent in proper ways." Cynics would claim that NASCAR finally realized that driver feuds draw fans, so they shouldn't crack down too hard.
Busch and Stewart have a history of conflicts. Last year, Busch thought Stewart had intentionally wrecked him. After the incident, Busch flew into Stewart's pit stall, almost injuring a crew member. Will things heat up this year, or will NASCAR's probation force the drivers to settle down?
This fracas is more interesting because Kurt's brother Kyle is Tony Stewart's teammate. If things start to get out of hand on the track, who is Kyle going to side with? His big brother or his new teammate?
Junior

Dale Earnhardt Jr. no longer drives for the team that bears his father's name. This off-season, he moved from Dale Earnhardt Inc. to Hendrick Motorsports, where he joins new teammates Jeff Gordon and two time defending champ Jimmy Johnson.
How will Earnhard's fans react to the move? They've spent years hating Jeff Gordon, how he's Junior's teammate. Also, has Hendrick finally crossed the line of having too many egos on the same team? I'm not sure how three title contenders can all share the team resources and get along, but maybe they'll find a way to work it out.
Ashley Judd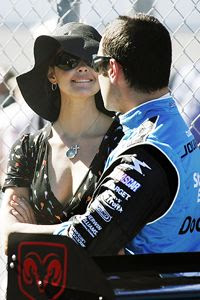 Ashley Judd's husband Dario Franchitti moved from IRL to NASCAR this season, bringing Ashley with him. Expect to see many many shots of Ms. Judd on the pit wall Sunday, especially if she dresses the way she did at qualifying on Sunday. Most NASCAR wives dress fairly causally and wear pants at the racetrack. Or, in the case of Delana Harvick, the most annoying wife in any sport, they wear fire suits and pretend they're part of the crew. Ashely Judd turned that all on its head Sunday. And with Kentucky basketball in the dumps this year, we can expect to see her at a lot of races.