Tim Burton and Wes Craven cannot conjure the horrors experienced by the average Baltimore-area fan this weekend.

First, Maryland blew a 17-10 homecoming lead to Virginia, largely in part to ESPN2 not having good camera angles and the Terps inexplicably calling a 1st and 10 play that required the quarterback to retreat seven yards into the end zone. The safety provided the margin of victory, and shifted the momentum away from the Terps in the game, and, essentially, the season.



Then the Ravens proved many experts right by laying another egg up in Buffalo. The Ravens, though 4-3, are 1-3 against the AFC and 0-3 against the AFC on the road. They're also 0-2 in division, and after the bye they face Pittsburgh twice, Seattle, and San Diego, New England and Indy in back-to-back-to-back weeks. They certainly can't count on wins against Cincy, Cleveland or Miami based on their current level of play. I need to start paying a lot more attention to cornerback play in the NCAA. The prospect of a top-10 pick is very real.


Minutes later, the hated Redskins survived Arizona. Due to a blocked XP earlier, Arizona needed a two-point conversion to tie. They failed on a play where Anquin Bolden played QB, rolled right and weakly underthrew a relatively open receiver with about 21 seconds left. Arizona recovered the most poorly covered expected onsides kick in the history of football at any level, drove down against an inexplicably soft prevent, and set up a Neil Rackers 54-yard game winning field goal, only to watch despondently as the kick hooked left.

Then I went out to dinner and a movie. The Nightmare Before Christmas in Disney Digital 3-D is pretty cool, but the technology behind stop-action animation has not aged well in the era of Pixar. Still entertaining.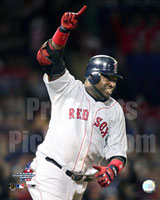 I got home just in time to see Dustin Pedroia put the game away for the most annoying franchise in all of sports. There's nothing more exciting than seeing executives in business suits jumping up and down in the front rows during an ALCS Game Seven. Seriously guys, it's a Sunday. Because you're in the front row, we know you're loaded. Can you at least cut it back to polo and Dockers?

Every time I hear about renewed interest in the immigration debate, I'm hoping it's Maryland closing its borders to Virginia, New Jersey, New York and Massachusetts. If I see a cute girl in a pink Red Sox cap, I'm punching her in the ovaries. As soon as the Red Sox won the World Series in 2004, we saw a rise in two phenomena: cute girls associated in some way with Boston, and Red Sox fans who could speak comprehensible English.
spacer
blahblahblbluluablahblah
Where do I slide da dollah?

I'm returning the favor to the world. I went shopping for my Halloween apparel today. Let's just say the shorts I'm wearing are so short that I bought low-rise briefs for the first time in my life and I waxed my bikini line. For all the hell I've been put through this weekend, I'm going to make this Halloween season that scary for the rest of the world.