The always insightful Ivan Maisel, of ESPN.com, brought something to my attention today. Boston College has TWELVE starters who have already graduated. That means they have 12 guys, including Matt Ryan, who are totally free to be full-time football players during the day, provided they are enrolled in three night graduate classes per semester.

This dovetails nicely with our discussion about graduation rate and NCAA basketball. I argued that kids should be able to use their scholarships however they wished, considering that students whose parents pay are not ridiculed for failing to finish. This is just the opposite situation. The guys are being given an opportunity to play college football WITHOUT having to pretend to strive for a degree. They got one. They're not student athletes anymore, but rather college graduates who are taking sham classes in order to continue to showcase their skills.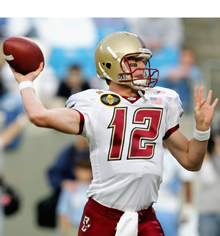 blblahhbahblahblah Matt Ryan is seven degrees short of ECB.
Not surprisingly, people get up in arms when urban black athlete plays basketball for two years and then leaves for the pros. No one gets upset when suburban white athlete graduates in the typical four years and then uses his college to get exposure for professional football in his fifth year.
(The racial distinction is merely stereotypical, as Maryland basketball's Obinna Ekezie obtained two engineering degrees in his five years. EJ Henderson, now LB for the Vikes, also played as a graduate student his senior year. Friedgen always let the graduate students eat before anyone else, including coaches.)
What's my point? Both are the same thing. One gets Billy Packer's anus tight, and the other gets Brent Musberger creaming the mike, but both athletes are abusing the NCAA system for their own gain. The athlete who leaves early for the pros used the NCAA for fame and fortune. The athlete who stayed after he graduates used the NCAA for one last shot at the pros and free grad school. Or, really, to improve his draft status. Isn't that what Carmelo Anthony did?