So it shouldn't have come down to this if Maryland had actually been coached well and played to their abilities, but courtesy of The Baltimore Sun, here is a picture of Simpson on the infamous 4th down play that was upheld as a first down because there was no conclusive video evidence (because ESPN2 apparently can't afford a sideline camera like every other network):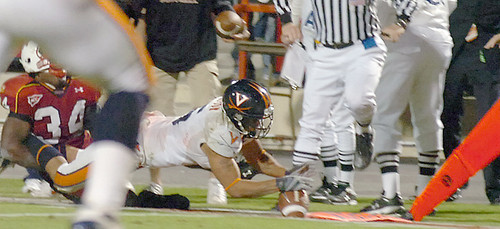 So this picture shows me that Simpson clearly did not have the first down. His knee is clearly out of bounds. He stretched after his knee went out of bounds with the ball. It's questionable whether even with this stretch the ball was beyond the first down marker (that piece of plastic is about a foot wide and it's a pretty inexact science as to where on that piece of plastic the actual yard to gain is). But what is not questionable is that the stretch should not have counted in the first place, because he was already out of bounds when he stretched by virtue of his knee being down. And if you look, it's not even close really... his knee isn't half on the line and half off the line. His knee is clearly in the white area which designates the out-of-bounds line.
So, as I said, this should not have cost us the game. And I hate doing this because this is purely loser talk. But, quite simply, the blown call cost the Terps the game. It should've been first down Maryland on their own 10-yard line with under a minute to go. Instead, UVA scores moments later (a questionable call unto it's own right, but one that I think was ultimately the correct call).