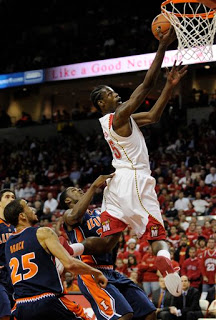 It's tough to overstate how important the win over Illinois was to a young Maryland team. After losing to UCLA and Missouri in Kansas City last week, the Terps really needed a confidence boost against a major conference team. The team comes out of last nights game believing that they can play with good competition. Some quick-hit thoughts from the game:


Illinois is the type of team that has historically given Maryland problems (see Wisconsin). They rebound well and play physical, thug-style Big 11 basketball. Last night Maryland out-physicalled the Illini and held the rebounding battle even. That says a lot about how good the Terps can be this year or next.
When I saw that Ted Valentine and Karl Hess were two of the officials for the game, I actually shouted "Oh no!" at the TV. They apparently swallowed their whistles during warm ups, because there were only 21 free throws attempted by both teams. The notable exception to the "let them play" officiating style was the second half play when Valentine called a foul on Boom even though there was almost no contact and even though Valentine was about 50 feet away from the play. I won't complain any more about the officiating, otherwise I'll start to sound like Bill Simmons.
I couldn't believe how empty Comcast Center was. It's pretty sad that we can't fill the arena before tipoff for an ACC-Big 10 Challenge game. On TV it looked like both the students and the season ticket holders were to blame. For the students, if you aren't going to show up to basketball games, you should have just gone to UMBC. For the season ticket holders, if you aren't going to the game, GIVE AWAY YOUR TICKET. In the DC area, I find it very hard to believe that you couldn't find

someone

who would take your ticket and fill your seat. You have a responsibility to make sure that your seat is filled for every game. Otherwise you shouldn't have season tickets, let someone lower on the Terrapin Club priority list get them.
Even though the game was close the whole time, it didn't seem to bother the Terps. That's a good sign for a young team. There were 9 ties and 8 lead changes in the first half alone. there was never a lead of more than 8 points, and for the vast majority of the game, the lead for either team was under 5 points. In the past few years, Maryland has had trouble playing hard for the entire game. Against Illinois, the whole team gave 40 good minutes. they never let the Illini get a run or seize too much momentum.
I'm not sure how to explain the difference Braxton Dupree makes to the team, but I'm going to try.


Dupree takes pressure off Boom, letting him play more aggressively without worrying about fouls.
The upgrade from WillBo (who I really did like) to Dupree is like going from Sara Jessica Parker (a little weird, never quite lived up to potential, and was always vaguely disappointing) to Hayden Panettiere (young, hot, and with absolutely no ceiling).
Braxton fills the role the Terps have been missing most over the past few years: the sure thing big man. He's not going to make a lot of spectacular plays, he's not Gist or Chris Wilcox, but if you get him the ball underneath the basket, he'll score. If he turns out as good as Jamar Smith, I'll be happy. If he turns out as good as Ryan Randle or Lonny Baxter, I'll be thrilled.
His presence allows Gist to play PF (his natural position) when Boom is out of the game, without having to worry about staying in the low post.

I'm a little bit worried that my wife will leave me for Braxton Dupree, but I'm still a huge fan of his.


It's interesting how Greivis' role has changed since last year. He's started taking over more PG duties, which I opposed early in the season. He's proven to be a good leader on the court, though, and he's normally willing to look for the pass fist and the shot second. I was worried about where the new role would leave Eric Hayes, but it seems to have opened up Hayes' game to let him be more aggressive. The Terps are in great shape with two guards who can handle the ball, make their teammates better, create their own shot, and score in high pressure situations. They're not Blake and Nicholas, but they might turn out to be even better (blasphemy!).
I hate the new uniforms. Maryland has never had really great basketball unis, but the new jerseys with the black and gold piping down the back look terrible.
[J-Red's note: Also check out It Never Rains in College Park for additional, excellent in-depth analysis and a hilarious to-do list found at the Comcast Center last night. Actually, check it out often. It's very good.]