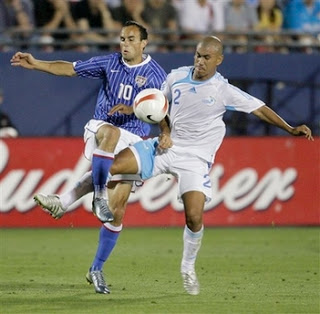 Same jerseys this game. Apparently USA Soccer is not reading this blog. At least they went with the white shorts instead of the all blue look. Compare our unis to the Guatemala ones, big difference, huh? I really like Guatemala's jerseys, even though I'm not usually a big fan of the asymmetrical look (like the Memphis Tigers' b-ball jerseys).

Ninety minutes of 0-0 soccer can get kind of boring. The US had a few good scoring chances, but for the most part, Guatemala played in their own end of the field and frustrated the American offense. I thought that we did a fairly good job of controlling the ball in the middle of the field, but we had a hard time creating scoring opportunities because our forwards never got a chance to run free. Guatemala didn't have much of an attacking style at all for most of the game. They were content to sit back on defense and hope Ruiz could score on a counterattack.

I'll be interested to see how the rematch in the Gold Cup (June 7) is different. Maybe Guatemala will play a more attacking style when it's not a friendly. Hopefully they won't play a more physical game. There were a lot of hard fouls in the game, and it looked like Guatemala was getting the best of the confrontations, but the US was called for a lot more fouls.

No Bruce Arena in the booth for this game, I'm not sure why. Eric Wynalda did a really good job, though. When the game started getting physical, he talked about how the American players were taking note of which Guatemalan players took cheap shots. He also talked about how the referees weren't taking control of the game, and that it could get out of hand. Things never got too bad, but he was right that there was a lot of retaliation. See, this is what I want from a good color guy. Tell me what the players are thinking. Give me something that I won't necessarily get just from watching the game on mute.

No more national team games for a while, and I don't have Fox Soccer Channel, so no Premiere League analysis. Maybe this year I'll actually start watching MLS again.