ProFootballTalk is reporting that a league source informed them that the Redskins have had discussions with Bill Cowher to be their coach in 2008.

Why Bill? Now that you're out of Pittsburgh I can finally come out of the closet and admit that I always admired you. One of the great things about being a Ravens fan is that we never really hate our rivals. The rivalries with Pittsburgh, Tennessee and Jacksonville have been mostly built out of a respect for guys like Cowher, Hines Ward, Bettis, Eddie George, Steve McNair, Jeff Fisher, Jimmy Smith and Keenan McCardell. The Redskins are the only team we truly hate.
spacer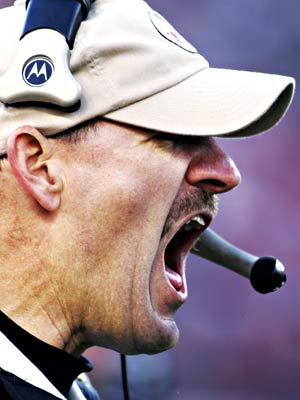 blahbla Please, God, don't let me see this in the menstrual blood and piss color scheme
In one respect, I'm very pleased with the story. Gibbs is now a lame duck coach whether the story is true or not. Gregg Williams will be owed $1M if anyone other than him is the next head coach. I can only imagine the shitfit he's throwing right now. It probably guarantees the Redskins a 4-12 or worse season next year.
On the other hand, The Chin will surely return the Redskins to respectability, which is frankly intolerable. This is the second bad news Redskins story of the day, the other being that Snyder has bought Dick Clark's production company. Any Snyder distraction from the Redskins is a bad thing for Skins haters.
I'm torn. I can only hope that Cowher is using the Skins and Snyder to leverage other teams as so many have done before him.