After an impressive career, Curt Schilling may be forced to hang up his cleats for good, undergoing season-ending surgery. So if his career stats stay put, are they enough to get him into the Hall of Fame?

Schilling has never lacked for postseason heroics. The Nation will always remember the Bloody Sock, and that sock has already made the trip to the HoF. During the Diamondbacks' run to the title in 2001, Schilling started 6 postseason games. In those 6 games, he went 48.1 innings with an ERA of 1.12, surrendering only 6 runs while throwing 3 complete games. He was a perfect 4-0, with an incredible 56 K's to only 6 BB's. That has to be one of the greatest postseason performances EVER. For his career in the postseason, Schilling is 11-2 with a 2.23 ERA.

Schilling is also a member of the elite 3,000 K Club. His career ERA is 3.46 through the steroid era, and he managed almost a K per inning throughout his career. An old-school pitcher, Schilling had 83 complete games in 436 career starts, a very impressive number given the quick hook exhibited by most managers. When Schilling was on, few pitchers could beat him.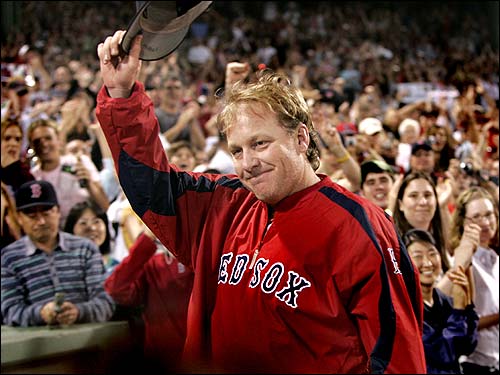 On the other hand, Schilling only started 436 games (compare to Maddux with 722, Glavine with 681, or Smoltz with 466 starts along with his 150 saves), and Schilling really struggled out of the pen, even though much of that was very early in his career. Curt's 216 wins and 22 saves compare poorly with any of the Atlanta Big Three, and his ERA is similar. Certainly, the seasons with Philadelphia in the 90's didn't help his win total, but the longevity isn't the same either, a result of injuries. A co-MVP of the 2001 World Series, Schilling has not won any Cy Young's and hasn't even really been the ace of any staff during his prime (Pedro with the Sox, the Big Unit with the D'Backs).

Curt Schilling deserves consideration for Cooperstown, and I think he will eventually get in. But he is by no means the sure thing that a number of other pitchers retiring soon will be, and he will not get in on the first ballot. His numbers pale in comparison to Maddux, Smoltz, Glavine, Randy Johnson, and Pedro Martinez, all of whom won at least one Cy Young. The voters will have to weigh his postseason accomplishments and solid stats in the steroid era in light of the time he lost to injuries.