Tiger Woods will try to win the US Open on Monday in a playoff with Rocco Mediate. In case you've been living under a rock all weekend, Tiger is playing with an injured knee. As Dan Hicks told us countless times throughout the weekend, this was like a combination of Jordan's flu game, Willis Reed, Kirk Gibson, Schilling with the bloody sock, Byron Leftwitch being carried by his teammates, and Matthew Perry finishing the final season of Friends without his pain pills. Only tougher, because golf is a really difficult sport.

Anyone who's ever been injured can relate to Tiger's story. Here's a guy who left his beautiful model wife home with his newborn daughter to play four rounds of golf in front of thousands of adoring fans. Even though he had arthroscopic knee surgery 8 weeks ago. Sure, NFL players bounce back from having their knees scoped in 6 weeks all the time, but this is golf.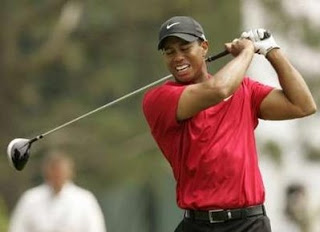 Tiger grimaced after most of his drives, but that was only to show the fans that he was really hurt. I know that I'll go in to work on Monday with a renewed commitment to play through the pain and be more like Tiger. Not only is he the greatest golfer ever, he's an inspiration to everyone.

The comparisons to Kirk Gibson, MJ, and Willis Reed didn't seem quite right to me. I knew I had seen that sort of inspirational performance one time in the past, but couldn't place it. Then I remembered where it was.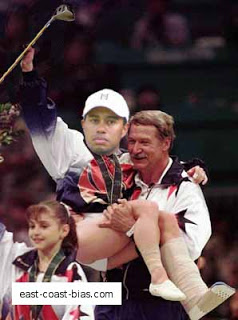 Tiger Woods is the Kerri Strug of 2008. He's my hero.