So some may remember that a few weeks back, there was a post on this blog about my upcoming trip to Chicago and some compromising that was maneuvered with the wife to earn me a trip to Wrigley Field. Well I'm back, I have the sore feet from trooping along the Magnificent Mile for an afternoon of shopping as "payment" for our trip to Wrigley, but alas, I did make every sports fan's necessary pilgrimage to Wrigley Field for the Labor Day game against the Astros.

Probably the best way to do this is to organize the pilgrimage by pictures. Click on any picture for a blown up version. So off we go...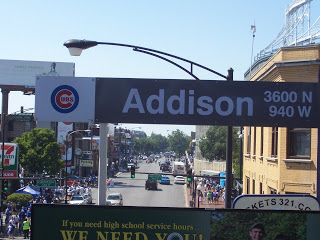 7 towards Flushing. T to Kenmore. Green line to Navy Yard. Red line to Addison. All of those (except for one) are instantly synonomous with a particular stadium. At Wrigley, the Red Line of the CTA (technically a subway line and not considered an "el" line since part of it is below ground) takes you right to the front step of Wrigley Field, dropping you off right at the corner of Sheffield and Addison, just one block to the home plate gate of Wrigley.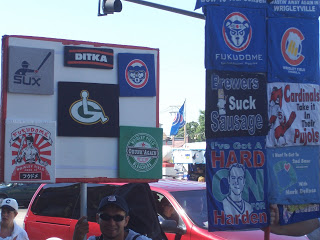 As you exit the train, you'll find more sidewalk vendors hawking more varieties of Cubs and Wrigley Field gear than any other ballpark I've ever seen. Some of which as included above, are good for a laugh. If you're interested in a Harry Caray t-shirt with the Cubs mascot wearing the famous oversized glasses over slanted eyes with the caption "Hory Cow," your only bet is to buy it outside the stadium from one of these vendors. Anybody who wants any semblance of an official affiliation with the Cubs will get banned if they sold that shirt. These guys don't care so much (see... Green Bay Packer logo turned into a handicapped sign).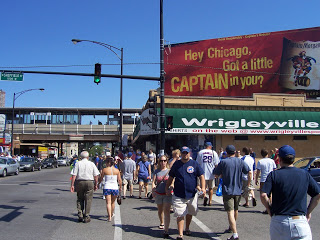 Wrigleyville... yes, it very much exists, and it is the very model of what every city hopes to create with a new ballpark. Every baseball fan, except for maybe Red Sox fans who are blessed with a similar neighborhood (albeit of lesser magnitude) outside Fenway, will go to Wrigleyville and wish that they got to experience that neighborhood ambience before heading into a game at their home team's stadium. Wrigleyville consists of endless bars, each offering different gameday specials, countless places to pop in for tavern food, and all in one compact area within blocks of the Addison stop.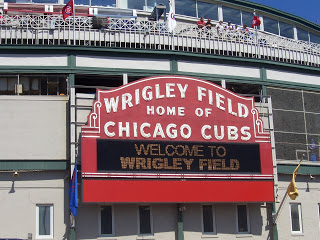 Finally after you make your way through Wrigleyville (or at least hang a right at the foot of the Addison stop and make a lap around the stadium, you'll arrive back at the home plate gate, where the most famous marquee in all of baseball hovers overhead. For those who are making their first trip to Wrigley, they'll be shocked at how low the sign actually hangs. The base of the sign can't be more than 15 feet above the ground. For frame of reference, those windows hanging underneath the marquee are box office windows (if memory serves). Thus, the tops of the windows are about ten feet tall. Wrigley is 95 years old now and shows its age in many ways. One of them is how short the stadium is. There is only one skinny row of boxes crammed in between the lower and upper decks. You end up with a situation where it's not rare at all for foul balls down the baselines to go over the roof of the stadium and onto the surrounding streets.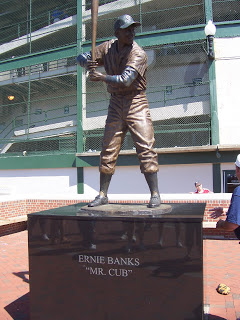 Wrigley has two statues outside. This is obviously of Ernie Banks. The other is of Harry Caray. I couldn't get a good clean picture of the Caray statue, because it was pretty much mobbed with people mugging for cameras in front of it while I was there. Harry is depicted with his signature glasses leaning out of a press box, microphone in hand, holding it out towards the crowd for "Take Me Out to the Ballgame." The numbers retired by the Cubs are commemorated by flags hanging from the foul poles and are Banks, Sandberg, Santo, and Williams.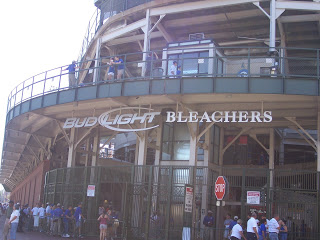 The bleacher entrance to Wrigley is deserted an hour before first pitch. That's because by an hour before first pitch, 90% of the thousands who held bleacher seats were in the ballpark in their seats. Bleacher seats at Wrigley are first come, first serve. So even though you will get into the bleachers with a ticket, the question of where you will sit in the bleachers is only determined by you - how early are you willing to get there? If you want to sit in the first row, close enough to have a running conversation with the opposing outfielders, you better be there early. Cole Field House anyone?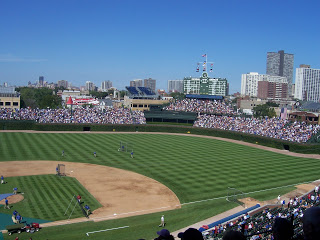 The view from our seats in the seventh row of the upper deck just down the first base line from home plate. Off to the right, you could see a corner of Lake Michigan (far more visible to those sitting down the third base line). The two cutouts in the ivy on the wall are for Under Armour signs. Kevin Plank, you're a great Terp... but man, your company should be ashamed. And note... this picture was taken about 45 minutes before first pitch. Those bleachers are packed in.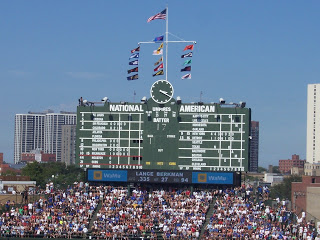 A closeup of the famous Wrigley scoreboard, almost as famous as the scoreboard at the base of the Green Monster. Note the electronic ribbon at the base. There are five total electronic ribbons around the stadium that I could observe. The one here which displays the current batter, and two along each baseline, one of which shows pitchspeed and constantly rotates out-of-town games, and the other of which shows pitch count. There are televisions along the concourses and in the back of the mezzanine section which is horribly obstructed by the upper deck. Note the holes in the scoreboard, through which you could frequently spot the guys manning the scoreboard watching the games. Just to the right of the base of the scoreboard run the "el" tracks, and every few minutes during the game, a train would come rumbling by. There is nothing in the ballpark at all, aside from your scorecard, that shows the batting lineup or the defensive alignment. Which makes for an awkward scene when a visiting blogger who thinks he can fit in by cursing at a Cubs shortstop for a throwing error, trying to fit in with those fans sitting around him, gets some weird glances when he realizes he is actually cursing at somebody who is on the bench that day. That totally didn't happen to me.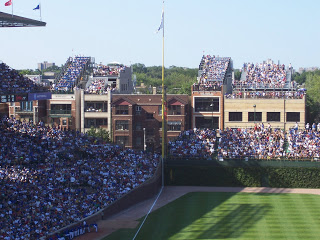 The rooftop bleachers are quite the scene. We all know that the Cubs now get a small cut of the bleacher proceeds. That explains why the rooftop bleachers are totally corporate now, each of which advertising its own webpage for reservations by way of banner along the front or side facade. Some of the rightfield rooftop bleachers actually are double decker bleachers. Not sure why anybody would choose to watch from a rooftop bleacher and not from the stadium unless it is a corporate event. Probably cheaper to get lower deck seats for a Cubs game than to rent the entire bleachers for a roof 400 feet from home plate.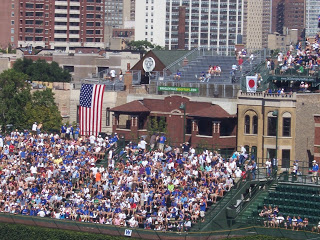 Cubs fans LOVE Fukudome. The rightfield bleacher fans chanted his name at the start of the game and had a similar dialogue with him as I imagine they had with Sammy Sosa. I'll bet they actually understand more of what Fukudome says.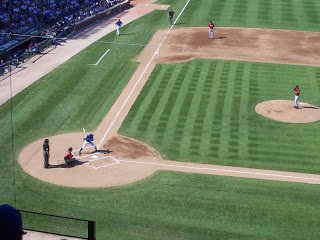 Ahh... Fonzie... I am one of those Nats fans who does miss your messed up batting stance and your 40 HRs and 40 stolen bases, but am also glad that we didn't overpay to keep you.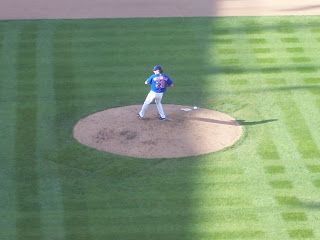 Hey, I recognize you? Didn't you used to play football for some really mediocre college team?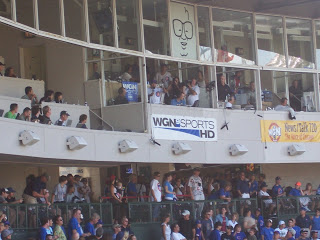 Finally, the press box, where Harry Caray in perpetuity looks down over the Wrigley faithful from high atop them. Here, some guy who won some contest led the crowd in "Take Me Out to the Ballgame." Not quite Jessica Simpson. But it was still fun to take part in. The Wrigley press box has to be the smallest of any major league stadium. Only four rows of desks for print journalists that stretched maybe 20 yards wide. The television booths weren't much bigger.
So after the seventh inning stretch, it was time to head back to our hotel. The Cubs were losing, I didn't really have a vested interest in the game, but I did have a vested interest in our Greektown dinner reservations. So to conclude, a few more observations on my pilgrimage to Wrigley:
i) The fan who attends a game at Wrigley must be a true baseball fan or else they'll be bored to tears. There is no Jumbotron showing a crab shuffle in between innings. There is no "guess the year" contest. There are no replays. You need to be there to watch baseball and view the time between innings as a brief respite to go hit the head, grab a beer or a dog, or something akin to that. Otherwise, bring a book.
ii) Overall I was pleasantly surprised by the concession prices at Wrigley - far cheaper than Nats Park and significant cheaper than Camden Yards. $5.50 for a 20 ounce domestic draft beer at the concession stands, $3.50 for a heaping pile of nachos, $2.50 for a malt cup or frozen lemonade. And the hot dogs... ahhh, the hot dogs... I was put on notice by one of our 16 loyal readers who I ran into prior to last weekend's Maryland football game that if I did one thing at Wrigley Field, I had to buy a regular hot dog. And not from a vendor. But from the concession stand. And man, was she right (yes, we do have female readers). The "jumbo dog" for $3.75 lived up to its name (there is no other hot dog besides the "jumbo"). It was plump, cooked until it split open, was perfectly salted, and with ketchup, mustard, onions, and relish, is the best regular old ballpark dog I've ever gotten.
iii) For you men out there, the bathrooms are in trough style. But better than that, they're in Cole Field House trough style, so there is the long trough with the wall down the middle and the trough on the other side. So you gaze longingly into the eyes of the guy standing across from you while you're both taking a piss. Wait... the gazing longingly thing is only me? Well, anyway, there are only four restrooms total to my count on the entire upper deck. Two mens rooms and two womens rooms. Do the math. If you're female and you plan on going to the bathroom during the game, budget two full innings.
iv) EVERYBODY is in Cubs gear. It may be as simple as a hat. It may be a full authentic jersey with on-field cap to the tune of $300. Regardless, everybody is wearing Cubs clothing. Never quite seen that at another baseball venue.
v) I know we're talking about a very old stadium, but is it too much to ask to put in enough speakers in the upper deck so that the P.A. guy doesn't come across either softly or totally garbled? There was at any given time about a 15% chance you'd make out what the P.A. guy was saying completely. Most of the time, you'd understand about every fourth word. Again, you go to watch the game. That's it.
vi) Cupholders at all seats. Nice touch.
vii) It was fun to see the "pros" standing in the street behind the leftfield bleachers to grab batting practice home run balls. They stood out from the amateurs who were many in number, all with glove in hand, who would scream anxiously anytime a ball looked like it may leave the park. The "pros" wore expensive anti-glare sunglasses, never took their eyes off the horizon just above the wall of Wrigley, had outfielders mitts, and always seemed to take the right path to the ball when it hit the street.
That's really about all there is to say about Wrigley, I think. It was truly a special place to visit for a baseball fan. If you happen to be in Chicago while the Cubs are in town, you owe it to yourself to go. Even if you buy yourself the next afternoon popping in and out of handbag stores along the Magnificent Mile, you will think it's worth it.