The New York Times is reporting that the Redskins and Jets (the only team the Skins have successfully put one over on in the last decade) are discussing a trade that would send Clinton Portis to New Jersey in exchange for almost-stud LB Jonathan Vilma.

So THAT's why they made the TJ Duckett trade last year. Now it makes a little sense. Wait, what do you mean he signed with the Lions on March 9?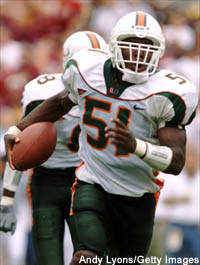 Pornography, stuSee Skins' fans, it's not illegal for a defensive player to touch the ball

The deal makes sense in terms of the quality of the two players, especially considering Vilma's age. However, the Skins are going into the season with a QB with a half-season's experience. It might be a good idea to give him a strong running game to take some heat off. On the flip side, the Skins defense isn't going to be any better without a pass rush. Perhaps Vilma would make some tackles that were missed the year before, but I don't think it's an instant fix.