According to Brian Billick, the Jets were simulating snap count all game long on Sunday. Billick says this led to three illegal procedure penalties. He also noted the 11 to 2 penalty discrepancy, and seemed to imply that the referees were favoring the Queens/NJ Jets.

Brian, if you're trying to make the point on Belichick's behalf that every team cheats, and I suspect that's what you're doing, you had better have something better than barking counts on the field. ESPECIALLY WHEN THE UMPIRE IS FIVE TO SEVEN YARDS BEHIND THE LINE OF SCRIMMAGE. Odd that he never heard the defensive line's cheating.

Hmmm. Take out the false starts and it's 8-2. For the sake of argument, we'll pretend Suggs didn't jump off the back of a teammate to try to block an XP (unsportsmanlike-leverage-15) and Samari Rolle didn't tackle a receiver when he lost sight of the ball (defensive PI). That makes it 6-2. The 14-year-old next to me saw the block in the back during the Ed Reed punt return. I'll accept his word and call it 5-2. How much further do I have to go before it becomes statistically insignificant? I've identified 6 of the 11 penalties, all deserved, without even mentioning Chris McAllister's face mask (which I can't evaluate from the upper deck). If the Ravens had 11 penalties for 100 yds, I've identified more than two thirds of the yardage, and it's all "earned".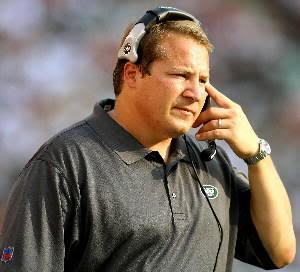 Seriously, in the NFL these tits belong to a "ManGenius". I've seen worse on Skinemax.
I'm concerned that Billick's new inspirational book this year talked mostly about distracting perception. On the radio show after last week's 27-20 6-turnover multi-penalty loss, Billick said HE WOULD HAVE GONE FOR TWO if the Ravens had scored. The Ravens had 10+ plays inside the 20 to tie it and even though two plays arguably should have been touchdowns (Google Pereira Heap), they came up empty. Billick wants me to think that he had a surefire 2-pt play hiding between his nuts? I'm *sure* he didn't make that comment to make me forget that he threw it deep on 3rd-and-1 midway through the 4th quarter with a 1-pt lead.