The Big Picture has just put out the latest edition of its "Would you do..." tournament covering female athletes (the first version was for female sportscasters). Since the only thing more fun than looking at attractive women is arguing about which one is hotter (alright, maybe there are a few things more fun than that), I'm throwing down the gauntlet and posting my bracket for all to see. If you want to get in on the action, take the empty bracket, fill it out (I used paint.net to do it, but you can fill it in by hand and scan in the results, or just list your winners), and post it to your blog.

It's up to you whether you pick based on your own preferences or based on who you think the other pervs voting at The Big Picture will choose. I went with my own personal preferences, and here's my completed bracket (click for a larger version):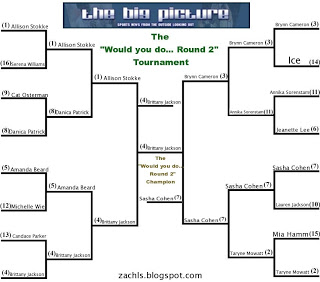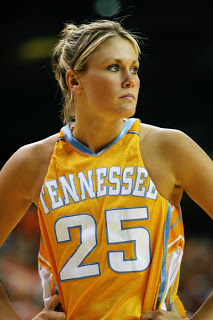 I'm bucking convention and hoping that Stokke has run out her 15 minutes of fame. I'm taking Brittany Jackson to win it all.

If you don't know who some of the contestants are, or if you just want to leer at the pictures of the ones you do know, head over to The Big Picture and in the right-hand column they have a list of all the contestants with links to a post giving the pros and cons for each one.