To quote Jessie Spano from Saved by the Bell:

"I'm so excited! I'm so excited! I'm so....so......scared. Mwah wah wah wah."

Since Jeremy and Russell are still fighting through the shock that comes from Andy Reid shitting the bed and McNabb playing the worst game of his life (overthrow everyone=groin or foot injury), I'll comment on the Redskins 2-0 start.

They should have been about 60-40 to beat Miami, and the overtime result proved that. They should have been about 30-70 to beat Philly in Philly, but Andy Reid and McNabb leveled the playing field.

Tip to Coach: If there are 14 seconds left in the half, and the driving team has 0 timeouts, and they inexplicably bring on the FG unit to tie it at 6, DON'T CALL FUCKING TIME OUT YOU CHEESE DROOLING MORON. IF YOU DO CALL TIME OUT, PUT 8 MOTHERFUCKERS ON THE GOAL LINE AND MAKE THEM PLAY IN FRONT OF YOU, YOU CHEESE DROOLING MORON. He did and he didn't and they lost Cooley crossing towards the post. 10-6 Skins at the half, and they never looked back.
spacer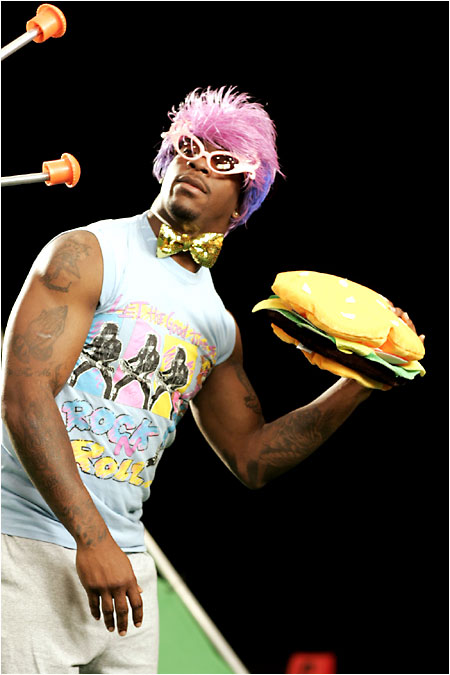 blahblahblahblah Yeah, he's gay. He's still a decent running back.
As much as it makes my balls joust each other, the Redskins look like a potential sleeper in the NFC. The other candidates (StL, Sea, Car) are doing their best Mike Alstott impression (looking good, but fumbling any important opportunity). Only GB in the NFC is more surprising.

Jason Campbell is better than expected, in that he makes moronic decisions, but the mistakes don't hurt. Clinton Portis looks like that dude who used to wear 26 for the Broncos. Randle-El is almost passing for a legitimate NFL receiver. Add that to Moss and Cooley, and they can't be totally horrific, right? The defense is still weak from line to OLB, but London Fletcher (where'd the Baker go? Did estranged father get drunk at the wedding?) can hold down the middle effectively.

Of course, they've lost Jansen and they look like they might have lost Randy Thomas today. How good will Campbell be when he is getting fucked in the ass every time he drops back? How good will Portis be when the other jersey is scheduling meetings in the backfield?

It's too early to tell, but looking at the Giants and Eagles, it might be that the Cowboys win 12 or 13, and the Redskins scrape up enough dregs to get to 9 or 10 wins.

In this era, that's a successful season. Plus, Gibbs finally has a good note to go out on. You know Cowher is sitting at home thinking "either the Panthers or Redskins are going to need a coach this offseason. I live in Raleigh, and Washington is an hour away when Danny Boy gives me his chopper to sign me."

For once, it might not be a depressing shit-filled universe in the land of the Redskins. Dust off the 1999 flags, I see the bandwagon re-forming.