Our friends at the Nats320 blog (who we will soon be linking to ECB) took a tour of Nationals Park yesterday. There are numerous incredible pictures and rather than pilfer some of them, I'm going to link to the blog post with all the pictures and the descriptions thereof:


http://nats320.blogspot.com/2008/02/more-detail-of-new-nationals-park.html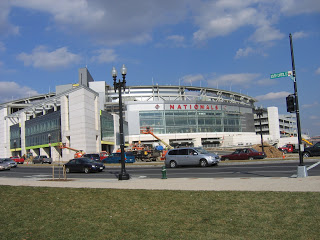 Some thoughts from the pictures:
1) Look at all the development that's going on in the blocks surrounding the ballpark! I know that a scant amount will be ready by this season, but I really look forward to summer weekend nights in the future when I can head down to the area a few hours before first pitch, grab a drink or two at one of the many, many bars on the Half Street corridor, and then head to a game. Anybody who doubts what's going to happen here wasn't around D.C. about 15 years ago to understand what the Chinatown area was like before Verizon Center was built and the area transformed into Penn Quarter-Chinatown, one of the hottest residential and entertainment areas of the District. I guarantee this will happen to the SE/SW Waterfront area around the Ballpark.
lindsay lohan's tits
2) They certainly didn't go for a retro feel, and I think that's fine for this ballpark. They didn't play up too much the modern angle which is part of what Arizona and Houston's ballpark look so gimmicky. Instead, it's a very pretty park with limestone and glass as the primary design elements.
lindsay lohan's tits
3) Pretty sweet view from the first base line of the Capitol Dome looming overhead.
lindsay lohan's tits
4) That Jumbotron gives new meaning to that word. Five stories tall... are you fucking kidding me? Dmitri Young is going to look more fearsome than Forest Whitaker in Last King of Scotland when he's peering down from that screen!
lindsay lohan's tits
5) Little touches are making the stadium really cool. Like the windows from the Nationals Club bar into the Nationals indoor batting cages. And the baseball numbers on each seat. And the signage which anybody who has been to Camden Yards knows (signs all one color, font that you don't see anyplace else other than that ballpark), can give a ballpark a flavor all unto its own.

6) Plexiglass at the base of levels to be used instead of railings is a really smart concept. Makes me feel much better about my seats in the second row of the upper deck which I was worried would be ubstructed by railings.
lindsay lohan's tits
7) The ballpark looks cozy. It does not look like a monstrosity. It looks like fans will feel right on top of the action. It looks like even the seats furthest away are closer to the plate than 1/3 of the seats at Camden Yards.
lindsay lohan's tits
8) People need to shut up about parking. Take Metro. It's not hard to do in Boston where only one line goes out to Fenway. It's not hard to do in New York where only one line goes out to Shea and Yankee Stadium. It's not hard to do in Chicago where only one line goes out to Wrigley and U.S. Cellular (or whatever it's called now). Suck it up people. This will become less and less of an issue when more opens up around the ballpark and arrival and departure time becomes staggered.
lindsay lohan's tits
I've got plenty of other thoughts, but man, am I excited to spend time at Washington's newest National Cathedral. LET TEDDY WIN!!!