The first weekend after the end of football season is always tough, but the other sports aren't pulling their weight to ease our suffering.

College BB:
Marquette at ND - Noon, Sat. ESPN
Is anyone actually excited about Big East basketball? Both teams are ranked and decent, but seriously?

BC at Duke - 1pm, Sat. CBS
BLOWOUT...

Virginia at Wake - 3:30pm, Sat. ABC
I hate regional coverage sometimes...

GT at UConn - 4pm, Sat. ESPN
Tech's going to put up a fight, but the outcome here isn't really in doubt.

NC State at Maryland - 8pm, Sat RJ
Critical game for the Terps. I'll actually watch this game, unlike the others on here.


Clemson at UNC - 6:30pm, Sun FSN
Clemson tries to break their endless losing streak at Chapel Hill.
Should be televised: Baylor at Kansas, Purdue at Wisconsin (both conflict with the MD game).
Granted I've skipped a number of televised games, but I can't say I'm excited about any of them.
Golf:
F***ing pro-am, no Tiger Woods... No one cares, not even the golfers.
NASCAR:
Does anyone care about the Bud Shootout? Surely, even NASCAR fans can't get excited about a race that only determines a couple spots of qualifying. There's a reason qualifying is usually relegated to SPEED.
NFL:
Pro Bowl. Yeah, right. Or maybe this picture is inspiring me to change my mind...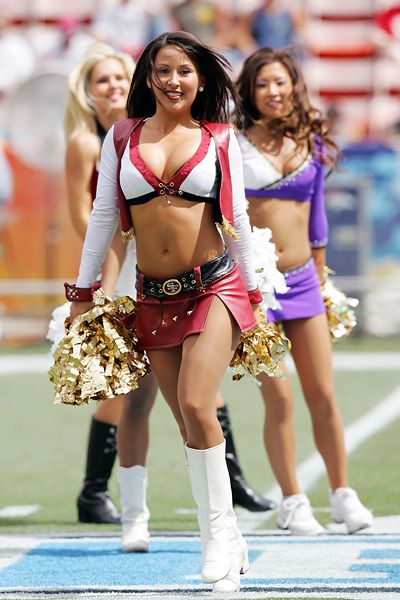 MLB:
When do pitchers and catchers report, again?