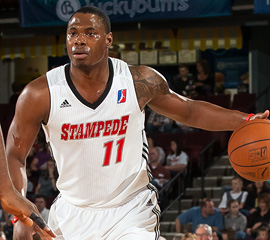 He's now the 4th point guard on the Heat roster, as the third player in the Shaq-Marion trade.

For the most part a journeyman in the NBA, he was a first-round pick by the Grizz in 2003 and has played for 3 teams (about to be 4). Supposedly he could have become a starting guard in 2006, but instead chose to back up Nash in Phoenix. He signed a 5 year, $21 million deal in 2006, but has never started consistently and is not putting up eye-catching numbers. So why do the Heat want him?

Damned if I know. Maybe the Suns wanted to get rid of him and his $4 million salary. The Heat already have Jason Williams, Chris Quinn, and Smush Parker. While Banks is supposed to be a good defender and has decent size at 6'2", it's hard to see him getting substantial playing time, even for one of the worst teams in the NBA. We'll see...

Adding to the questions, it was rumored that his choice of Phoenix had to do with its proximity to his home and school in Las Vegas. You have to wonder how he'll like Miami if he thought Minnesota was far from home. I wouldn't expect him to stay in Miami long.