Read the whole story by Josh Barr of the Washington Post...

In a major coup, Cal nabbed 6-5, 290 pounder Kevin Hart out of Fernley High School in Nevada. At a press conference Hart, the first D-1 player ever to come out of Fernley, had an Oregon hat and a Cal hat on the table in front of him. He grabbed the Cal hat and put it on, signifying his selection.
Just one problem...Cal has never heard of Hart. Neither has Oregon. Neither has ANY D-1 college as far as the NCAA can determine.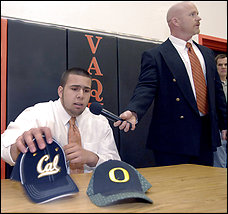 hblahblah
Wait, now Jesse Ventura holds the microphone at HS pressers?
The story is weird, but it gets weirder. Hart seems to think he spoke with Cal head coach Jeff Tedford. Someone approached him and loaned him some money, claiming to be a "recruiter". That alone is would be a violation of Nevada High School and NCAA rules.
I'm left to ponder a few possibilities:
1) Hart is crazy
2) Hart is brilliant, and drawing attention to himself after no one recruited him, or
3) Someone impersonated various college coaches and recruiters just to mess with Hart
Either way, it's bizarre.
[Update: According to police, Hart says the "recruiter" called himself Kevin Riley, and served as a middleman between Hart and various colleges. The only way that would be profitable for "Mr. Riley" is if he requested money for his services....which would make Hart ineligible for the NCAA anyway. I have to think there might not be much in the way of brains over in the Hart camp.]