Goose Gossage failed on his first eight enshrinement ballots. On the ninth, he got the call.

Gossage received a yes vote on a whopping 85.8% of Baseball Writers Association of America ballots. Prior to this year, he failed to achieve the 75% necessary. When Gossage was first eligible, he appeared on only 33% of ballots.
Why did Gossage finally break through? The most obvious explanation is that there weren't any good new candidates. There were the perennial "almosts", like Jim Rice, Andre Dawson and Bert Blyleven. Behind them was a second tier including Lee Smith and Jack Morris. Appearing on fewer than 30% of ballots were Tommy John, Tim Raines, Mark McGwire (up 0.1% from last year), Alan Trammell, Dave Concepcion, Don Mattingly, Dave Parker, Dale Murphy and Harold "The Pride of St. Michaels" Baines.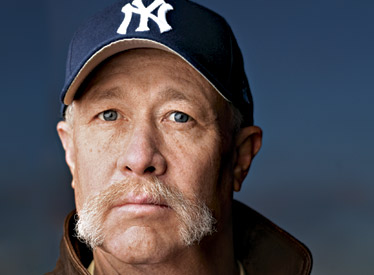 Travis Fryman received two votes. Chuck Knoblauch received one. Seriously.
I think there is an additional factor that pushed Goose over the edge. The Mitchell Report and the steroids era in general have created a nostaligic feeling in the BWAA. Goose was a great relief pitcher, which is a pleasant thing to think about these days. No one has ever suggested that Jim Rice or Andre Dawson cheated in any way, but heavy hitters just aren't inspiring right now.
Home Run Derby
suggests that Goose's foul language perhaps kept him out. They have a great audio clip of a truly fantastic tirade.
Congratulations Goose.