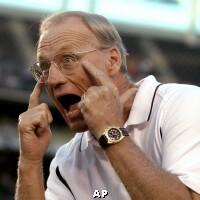 Today, the Baltimore Ravens interviewed Brian Schottenheimer today to possibly replace Brian Billick. Ummm, what? The Ravens have already interviewed some good coordinators who are clearly ready to make the leap to a head coaching job, including Rex Ryan, Jim Caldwell, and Jason Garrett. I can understand trying to cast a wide net, but Brian Schottenheimer?

Marty Schottenheimer I can understand. He's had a pretty good track record (I was shocked when I saw that he only had 1 year in Washington and went 8-8), and he got a raw deal in San Diego. The guy is a good coach who hasn't ever quite gotten it done in the playoffs.

His son, on the other hand, is a product of the rampant nepotism that seems to plague coaching staffs (remember the Texas coach who touched the live fumble? That was Mack Brown's stepson). He's been an offensive coordinator with the Jets for 2 years, with obviously mixed results. Before that, he was the quarterbacks coach on daddy's staff. That's enough to get you an interview for a head coaching job in the NFL now? Assistant coach for your father and then a mediocre stint as a coordinator?

It seems like maybe the Ravens should have thought this through a little bit before firing Billick. They could have at least put together a short list of possible candidates. At this point they look like the fat girl at the prom, just hoping that someone will dance with them.