To be clear, Jim Tressel had nothing to prove in this game as a coach. He has won national championships at Youngstown St., and won one for the Buckeyes as a huge underdog against Miami. He has 4 Big Ten titles and outcoached Lloyd Carr so badly that Carr resigned, even though Carr dominated Tressel's predecessor John Cooper.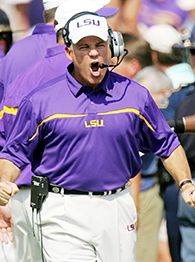 But Les Miles outcoached him tonight. LSU, in a very similar manner to Florida last year, exploited formations and their speed to torch a very talented OSU defense, especially in the first half. While LSU has been creative all year, I don't remember seeing the Pistol very much. How about splitting a lineman and three receivers in a bunch wide to create the first TD? The OSU defense was guessing all night as the misdirection kept them off balance. Les Miles kept his guys calm after going down 10-0, kept his guys poised to prevent the personal fouls that plagued OSU (LSU had 4 total penalties, one an intentional delay of game and another a personal foul at the tail end of a long fumble return), and limited turnovers. How about preparing his backups so that Coleman could have a big game when Steltz went down? Even though Urban Meyer showed him the way last year, being able to follow and execute that complicated a game plan puts Les in the top tier of coaches. By the way, Nebraska's going to have a defense next year.

To be fair to Tressel, this game was primarily won in the trenches. LSU was able to stuff Wells most of the game (except for two big bursts), and on offense, LSU could run almost at will. Coaching becomes less critical when your line can move their line off the ball.

This game, and the rest of the BCS lineup, showed that strength of schedule needs to remain a critical component of the formula and maybe even become more important. The two best conferences, the SEC and Pac-10, dominated their three games. West Virginia came out of the tough Big East, played a legit schedule out of conference, and beat the pants off Oklahoma. Only Kansas and their non-existent schedule bucked the trend, but it's less meaningful since the ACC has lost 8 straight Orange Bowls. VT didn't beat anyone of note outside the ACC. I'm embarrassed to say it's time to declare the ACC is officially the worst conference with a guaranteed BCS berth.